Your Pet Loss Diaries
'Sharon & Caroline', UK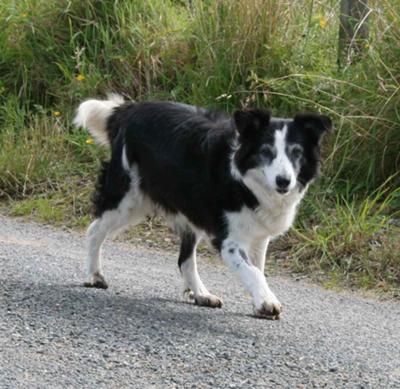 About Sharon
Sharon, the most wonderful border collie anyone could have wished to come into their lives.
When did you lose Sharon?
At 6:55am on Wednesday 29th October.
At what stage of pet loss grief do you feel you are currently at?
I am just devastated, cannot imagine coming home at nights just now without her being there. Keep looking at her bed and speak to her all the time.
Sharon and Caroline's Story so far
Sharon was born on our farm in June 1996, just after I got married. She has been my best friend for the last 12 years.
She loves coming out with the horses, and working with the sheep. Her favourite thing was waiting for the lorries arriving with sheep......that made her year.
She was "my girl" and would never leave my side. She was there through any happy or sad times.
She used to fight my husband for the use of the sofa at night, but my OH would "bribe" her with beef so that she would jump off....but she soon realised that and waited to receive the food while still sitting on the sofa!
She was diagnosed with liver problems in July 2007, but was back to her normal self. The vets wanted to open her up, but I did not want that because I wanted her to enjoy whatever life she had left with us.
Two weeks ago she got ill again, was anaemic this time and her belly was swollen.
On Tuesday she was the BRIGHTEST dog I had seen in a long time. Came out to me with the horses in the morning, went round with the sheep with my hubby during the morning, and ate all her breakfast.
Sadly late afternoon on the Tuesday she was badly sick, and this got worse into the night...
We slept with her all Tuesday night, and at 4am she "came alive" one last time and looked at me as if to ask me to help her.
I knew by the look in her eyes that she was starting to get sore... :o( My and my husband stayed up all night with her, stroked her head and ears (as she liked that), talked to her all night.
I was waiting until 6am to give the vets a call, and they arrived at 6.55am.
Sharon was the kind of dog who did not like people "interfering" with her, however, when the vet started to get ready to put her to sleep, Sharon never stirred......she knew... :o(
Her passing was quick and peaceful. I lay next to her for the next hour before my husband buried her in our garden next to her mum and best friend...
I am empty and lost without her. I keep looking for her and she is not there. I want to give her a big hug and smell her again..to stroke her head and tell her how much I love her and how much I miss her.
I go to her grave each day and speak with her. I am worried about her being outside because she has always liked the luxurys of being indoor at nights... :o(
We have put a tribute to her on our website and will be putting up a memorial...
But it's so quiet...she used to meet me at my car at nights, jump in my lap and wait to get her lovy from me...but I come home and there is nobody there.
I have cried too much, and tonight for some reason is worse...and I dont know why..


Click here to read more from this Pet Loss Diary
Your Pet Loss Diary - 'Sharon & Caroline'
To add an entry to your diary please complete the form below
Read more diary entries
Click on the links below to read more of 'Sharon and Caroline's Diary
Click here to return to the Your Pet Loss Diaries Index Page





Click here to return to the Pet Loss Matters Homepage