Your Pet Loss Diaries
'Joann, Moxy & Lilly', Canada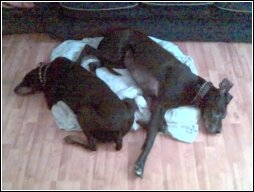 About Moxy and Lilly

Moxy Fruvous my beautiful black and tan Doberman with natural ears and docked tail and Lilly, my beautiful black Great Dane.

When did you lose Moxy and Lilly?

I lost my Lilly Dec 5 2007 and I lost Moxy Dec 27 2008, they passed with in a year of each other.

At which stage of pet loss grief do you feel you are currently at?


I'm not really sure at this point I feel the loss of them very sharply. I still get emotional and cry, I can't be around other dogs without feeling my heart break. I think of them each and everyday.


Joann, Moxy and Lilly's Story so far


I had my girls for a very long time I had Moxy first so I'll start with her. She was and still the ruler of my heart I had gotten her on Christmas day in 1995, I was 18 and had just had my first child. I was young and had very little income, so that Christmas morning I woke up had no tree no presents and no Christmas dinner, it was a tough time in my life.
I went out on the balcony that morning feeling sad that my life was not how I had planned, when I heard the most pathetic sad sound, a dog was crying. I believe at that moment God knew somthing I didn't. As I stood looking for the crying dog, the dogs owner came out to shoosh her dog. I asked how old the dog was, the girl told me 6 months and that she was getting rid of the dog because it was 'stupid'. Without thinking I said I'll take her and that was 1 thing in my life I never regretted.
That 'stupid dog' was the most beautiful smart loyal friend I ever had. She got me thorugh so much sadness and happiness she was part of my heart. When I found my Mother dead she was with me, the birth of my triplets, my wedding, and the death of my Great Dane she was with me for all those things and many more. My greatest friend Moxy, that is a shortened version of my life with Mox.
Now about Lilly, my dane she came to me 1 year after the death of my Mother. She was another unwanted dog that bounced around to different homes, I gave her a forever home. When I brought my triplets home from the hospital the first night she slept in front of their door and kept them safe, she was also at my wedding and a big part of my life. I miss her terribly.



Your Pet Loss Diary - 'Joann, Moxy & Lilly'
To add an entry to your diary please complete the form below
Read more diary entries
Click on the links below to read more of 'Joann, Moxy & Lilly's Diary
Click here to return to the Your Pet Loss Diaries Index Page

Click here to return to the Pet Loss Matters Homepage