Your Pet Loss Diaries
'Dayle & Oliver'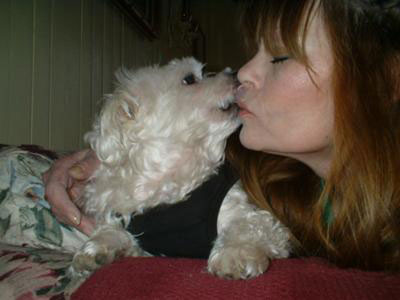 About Oliver


Oliver was my little Maltese dog... my soul mate friend and companion.


When did you lose Oliver?


I lost Oliver on September 13th, 2011.... just a week after his 10th birthday... which we couldn't celebrate because he was so ill.


At which stage of pet loss grief do you feel you are currently at?
Or how are you feeling right now?


I am not doing well yet at all. Today has been a very hard day. I wish I could just fall asleep...because I cannot stop crying.... and feel as if I can't get through today. I miss Oliver more than I can ever say.


Dayle and Oliver's Story so far


I had Oliver's parents... and so... I saw Oliver born. I fell in love with Oliver... and just had to keep him for myself. I had become very ill and had to find homes for Oliver's parents... but I had to keep Oliver. He was there with me through terrible surgeries and so much pain. He gave me so much comfort and the will to go on.
Ollie became my companion... when my marriage became unbearable. He became my child when my own children married. Oliver was my life. I knew that someday Ollie would leave my life... but he suddenly became very ill... and he was not even 10 years old. I thought I would have him for at least 3-4 more years. I never thought it would end the way it did. I could not bring Ollie back to health... the way he had helped me. I feel as if I somehow failed him. I just pray that we will be together again. This pain is at times more than I can bear. It is worse than my physical pain.


Click here to start reading this Pet Loss Diary

Click here to see all entries from this Pet Loss Diary


Your Pet Loss Diaries - 'Dayle & Oliver'
To add an entry to your diary please complete the form below
Read more diary entries
Click on the links below to read more of 'Dayle & Oliver's' Diary
Click here to return to the Your Pet Loss Diaries Index Page





Click here to return to the Pet Loss Matters Homepage