Your Pet Loss Dairies
'Pat & Blue', Canada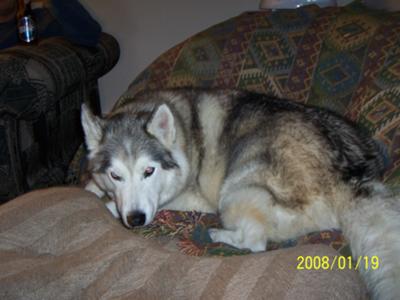 About Blue


My beloved dog's name was Blue and he was a beautiful Siberian Husky with beautiful blue eyes. His markings were mostly white with a black mask over his eyes and black down his back.


When did you lose Blue?

Blue passed on September 8, 2009 at 3:58 pm. He was 15 years and 9 months old.

At which stage of pet loss grief do you feel you are currently at?

Sadness and depression.

Pat and Blue's Story so far
Yesterday I went to the cottage for the first time since Blue passed. We were there for the long weekend and Blue was in good spirits on the Friday. He seemed glad to be there and was glad to see his friend Karmy there. He had a very good night on Friday - he slept through the night probably because of all the exercise he had that day.
But on Saturday I knew he was tired so I stayed most of the day outside in the sun watching him. Sometimes he would lay down and then couldn't get up on his own so I would keep an eye on him and go a help him get up. That night Blue did not do well. I could tell that he was in some discomfort and gave him some Medacam but he did not have a good night. I took him home on Monday and made him comfortable and stayed with him.
On Tuesday I knew what I had to do and with tears in my eyes and extreme sadness in my heart I told Blue that I was going to let him go that day. It was extremely hard to make the ultimate decision when we went to the vets because Blue seemed so up and ready to go but my family and vet told me that it was Blue's time and that I should let him go. That was the most difficult decision I have ever made in my life.
The vet gave me the first injection which make Blue go to sleep. I stroked him, scratched his ears and told him I loved him over and over again until he was deep in sleep. I could not watch as the final injection was made but was with him right after that. He passed quickly without making a sound. I can still see his face - so beautiful and peaceful. No more pain and suffering. But my heart was broken.
I miss him terribly and try each day to believe that what I did was best for Blue and that he is now running in the fields in heaven. I keep going each day by knowing that some day I will see him again.



Your Pet Loss Diaries - 'Pat & Blue'
To add an entry to your diary please complete the form below
Read more diary entries
Click on the links below to read more of 'Pat & Blue's' Diary