Your Pet Loss Diaries
'Lisa & Rufus'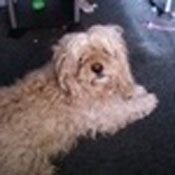 About Rufus
Rufus, aka Rufy Dufy. Rufus was a Springer/Poodle mix his fur was like silk, white with red highlights and the softest fur you ever felt. He has the biggest nose I have ever seen but oh such a sweet face. He was a little over weight but the most sweetest baby ever.
When did you lose Rufus?
April 15, 2012 at 11:49 am.
At which stage of pet loss grief do you feel you are currently at?
Or how are you feeling right now?
Sad, guilty, lonely still can't believe he is gone. I am so sad, I have a lot of guilt, I have so many questions. I miss him every second of every day.
Lisa & Rufus's Story so far
Rufus and I were together all the time, you see Rufus was scared of every thing, walks, fireworks, loud noises of any kind he hated car rides he would shake and pee he just hated it so he stayed home and only went out to do his business and right back in he would go. No matter what I tried or did he just wasn't having any part of the outside world so he just enjoyed being right next to me. He was 40 something pounds and when I had one of my other furbabies on my lap he would lay on my feet and boy I can't tell you how many times my feet would go to sleep with him laying his whole body on them.
This diary is going to be where I can talk to my Rufus on a daily basis. I have a diary at home but I need one he can see and read. I know that probably sounds crazy but If I write it in a book for some reason I think he can't see it but if it is online he can. Anyway, Rufus I miss you so so much, this past Wednesday you have been at the bridge for 4 months and it is like you just left, my heart is broken and I can't seem to get it together. Any way I love you my sweet guy, Your Mommy xoxox
Click here to start reading this Pet Loss Diary
Click here to see all entries from this Pet Loss Diary
Your Pet Loss Diaries - 'Lisa & Rufus'
To add an entry to your diary please complete the form below
Read more diary entries
Click on the links below to read more of 'Lisa & Rufus's' Diary
Click here to return to the Your Pet Loss Diaries Index Page
Click here to return to the Pet Loss Matters Homepage