Your Pet Loss Diaries
'Dea & Samantha'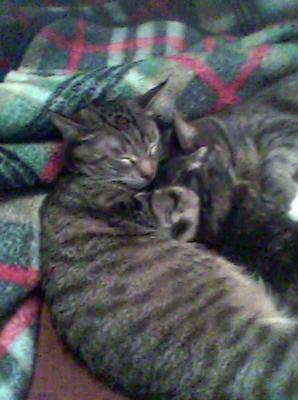 About Samantha
Samantha ~ the sweetest, most loving, coolest cat ever!!!!

When did you lose Samantha?
Between late night September 28, 2012 and early morning September 29, 2012.
At which stage of pet loss grief do you feel you are currently at?
Or how are you feeling right now?
I am in all of them, in various combinations, sometimes all five at once. basically, Ihave accepted it ~ only because nothing I do will bring her back & I still have 2 others (1 being her sister) that still need me. I have both of them feel her loss with my own eyes but not the acceptance I read here on your site ~ nothing will ever be same, maybe even a little because I know I will have to go through this 2 more times...
Dea & Samantha's Story so far
My Sammy & her sister Pooh Butt, were born in September 2010. I actually saw my Pooh Butt being born. My ex & myself lived with the owner of their mom. My ex & I had been arguing over me getting another cat for years ~ I lost my Guido in 2008 due to cancer in his lower jaw & had sworn I would never love anything that much again because of the pain when losing them. He said I needed another cat to help me get over Guido.
We were there while their mom was pregnant, when they were born & we were there in the living room when they just started appearing one by one. Last but not least, 2 of the 6 she had "chose' us. The day my baby 'chose' me. I was sitting on the couch watching tv & heard this strange noise. As I was looking down to stand up & investigate, I see this tiny little face climbing up the front of the couch. I sat back down & she laid down next to me with her little head in my hand. that was it, I melted.
Since she was too young to tell if she was male or female, I named her Sammy ~ thinking that if she was female, I could name her Samantha & if she was male I could name him Samuel. Well, Samantha she became.
Click here to start reading this Pet Loss Diary
Click here to see all entries from this Pet Loss Diary
Your Pet Loss Diaries - 'Dea & Samantha'
To add an entry to your diary please complete the form below
Read more diary entries
Click on the links below to read more of 'Dea & Samantha's' Diary
Click here to return to the Your Pet Loss Diaries Index Page
Click here to return to the Pet Loss Matters Homepage