Your Pet Loss Diaries
'Meg & KC', USA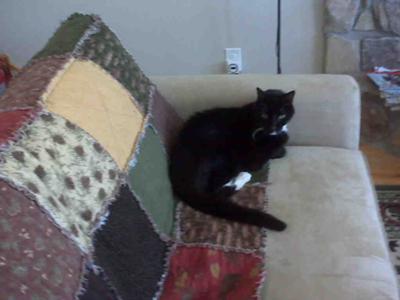 About KC

KC was a short hair black and white cat that had the greenest eyes I ever saw.

When did you lose KC?


KC died in my arms on 12 May at 3 am in the morning. He had had cancer surgery and we thought he was doing better but he wasn't eating and was very weak.


At which stage of pet loss grief do you feel you are currently at?
I am still crying and aching in my heart. I miss him so much. I think I am doing better and then I run into someone who asks me about KC and I can't get through anything without crying. I sit in my car and cry. I am a mess.


Meg and KC's Story so far


KC came to us 17 years ago as a tiny kitten. We have been inseparable for all these years. KC made several moves from Tallahassee to Maryland to three different homes in Florida. I was alone with him during three hurricanes. I lived with him alone when my husband retired and moved to Florida.
I took care of him when he was diagnosed with diabetes. We thought we had conquered that but he was diagnosed with cancer and together KC and I fought that disease until his little body could fight no more. I miss him and am having a hard time. My grown children used to tease me and say they thought their dad and I would have another child, they never expected a cat to become our child.


Click here to start reading this Pet Loss Diary

Click here to see all entries from this Pet Loss Diary



Your Pet Loss Diaries - 'Meg & KC'
To add an entry to your diary please complete the form below
Read more diary entries
Click on the links below to read more of 'Meg & KC's' Diary
Click here to return to the Your Pet Loss Diaries Index Page

Click here to return to the Pet Loss Matters Homepage